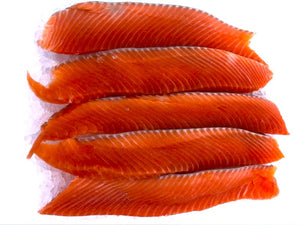 V-Cuts are the strip of salmon containing the pin bones, that is cut out of our sashimi fillets.  These strips are great value and can used in a variety of ways.  They come in 1kg vacuum-packed bags.
All products are shipped with ice gel packs to keep the salmon chilled during the courier delivery.  Deliveries are available to most addresses Tuesday-Friday.  Saturday delivery only available to certain addresses.  Please choose an available delivery date in your cart.
Freight is now charged by weight.  Please see our Shipping Rates page for more information.