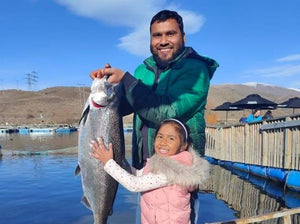 The ultimate guided one-on-one salmon fishing experience!  Catch your own chinook salmon in the glacial waters next to our cafe. No gear required (all provided) and no fishing experience needed.  Take home your cleaned (gilled and gutted) whole salmon, or you can ask for it to be filleted for you (extra charge applies).  This is a family-friendly attraction - either catch a fish yourself or sit in our landscaped garden and watch the excitement.  This is a big fish experience - no tiddlers here and expect them to put up a fight as you reel them in!
Further information:
$10 non-refundable booking fee which also includes the guide and gear hire.  This applies to walk-ins as well.
Salmon is weighed after being caught and the cost is

$35 per kg

All fish are gilled and gutted for free. Filleting costs $10 per fish. 
There is complimentary packaging with ice and paper.  A poly box is $10 extra.
You must purchase what you catch - there is no catch and release.
Please book online to guarantee your spot.  Choose a time and go through to checkout.  You will receive a booking confirmation by email.
We may accept walk-ins, depending on guide availability on the day.
Please only book for the number of fish you want to catch e.g. to only catch one fish, only book one spot regardless of how many people in your group.  If you want to catch 2 fish, book for 2 participants.
Catch-A-Fish currently operates between 10am and 2pm Monday to Sunday on weekends and public holidays. Hours are staffing dependent.
The pond contains salmon between 2kg and 5kg.  If you catch a salmon over the 5kg upper limit, you can swap this for a smaller fish.
Children 12 years and under must be accompanied by an adult.
It is highly likely you will catch a fish.  Occasionally the salmon won't take the bait. We may not be able to run the experience when the probability of catching a salmon is low.