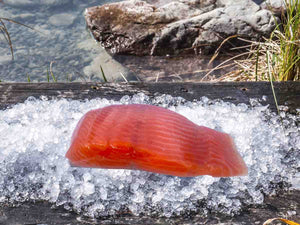 High Country salmon that has been cured with bourbon and maple syrup.  The result is a smooth, velvety texture similar to raw salmon, with a subtle flavour of oak and sweet maple.   Actual weight will be within 50g of size ordered.
All products are shipped with ice gel packs to keep the salmon chilled during the courier delivery.  Deliveries are available to most addresses Tuesday-Friday.  Saturday delivery only available to certain addresses.  Please choose an available delivery date in your cart.
Freight is now charged by weight.  Please see our Shipping Rates page for more information.