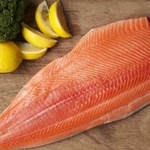 Salmon Fillets-online
---
High Country Salmon fillets are fresh harvested and individually vacuum packed for trouble free storage in your fridge or freezer. The Standard fillet is skin on with the pinbones still in. Or you can choose the Pinboned fillet if you prefer us to remove the bones for you.
Please note our fillets are an approximate size but will fall within the weight range you have requested.
All products are shipped in polystyrene bins with ice gel packs to keep the salmon chilled during the courier delivery.
Please note:
Due to low stock there may be a 2 day delay for dispatch of pin boned fillets.